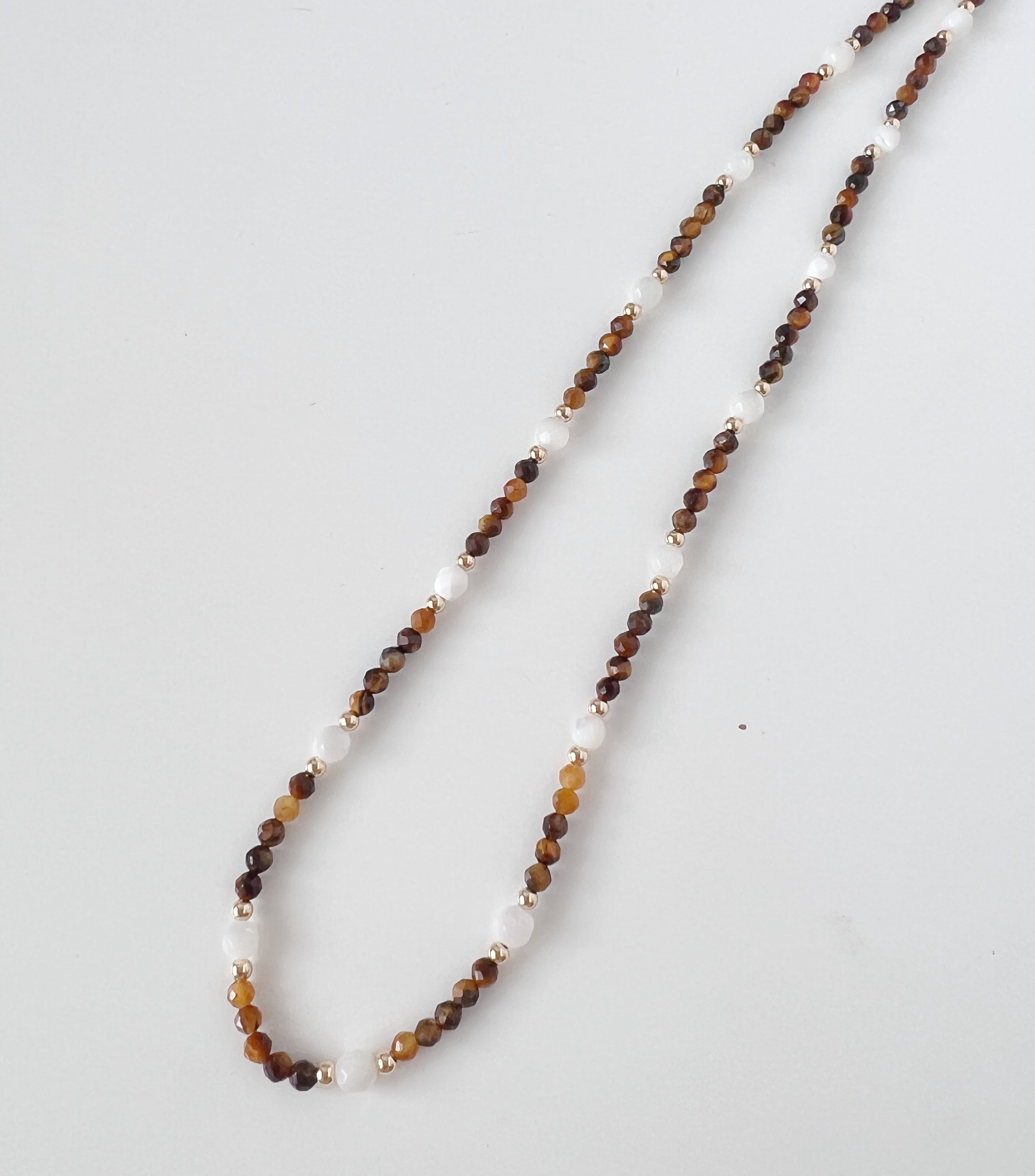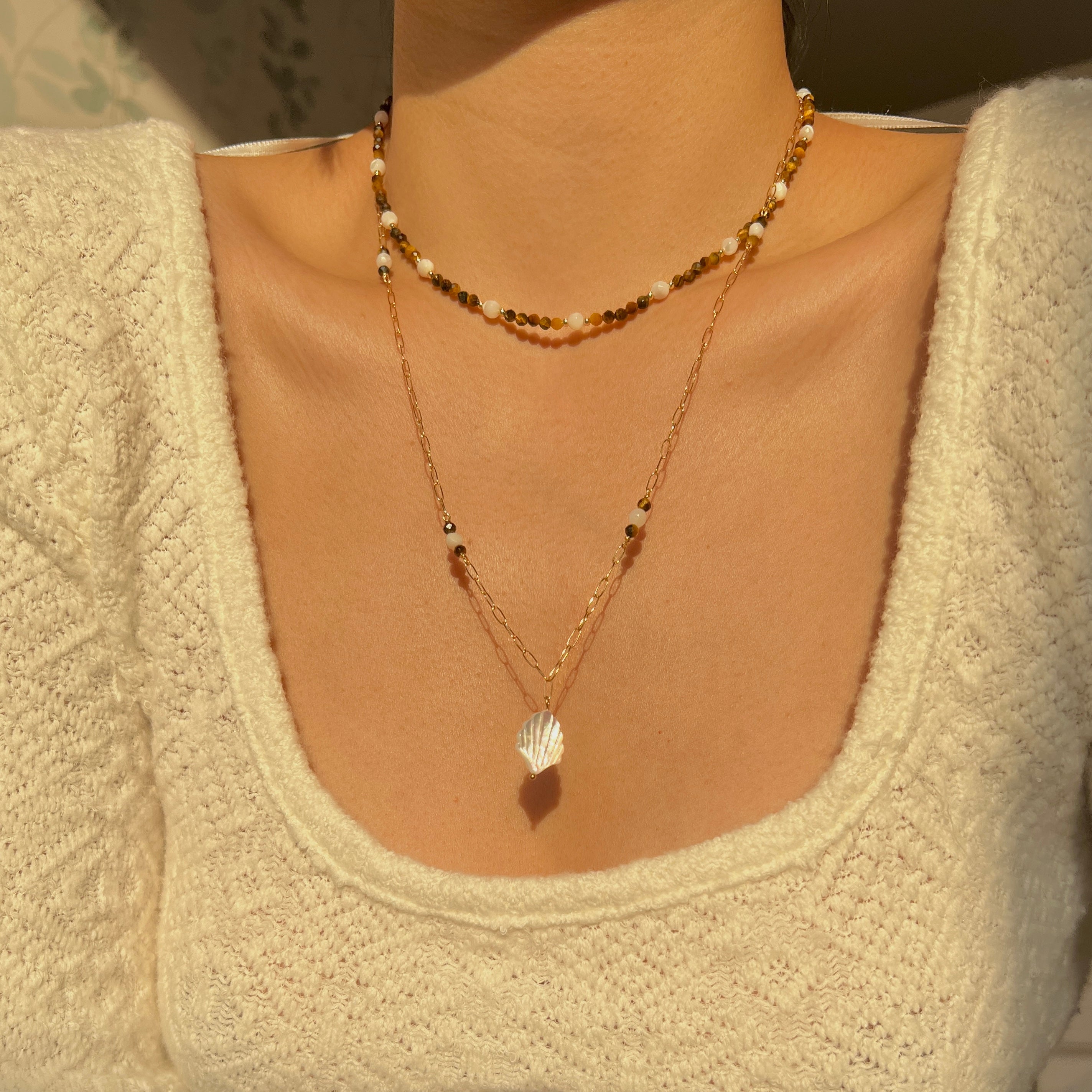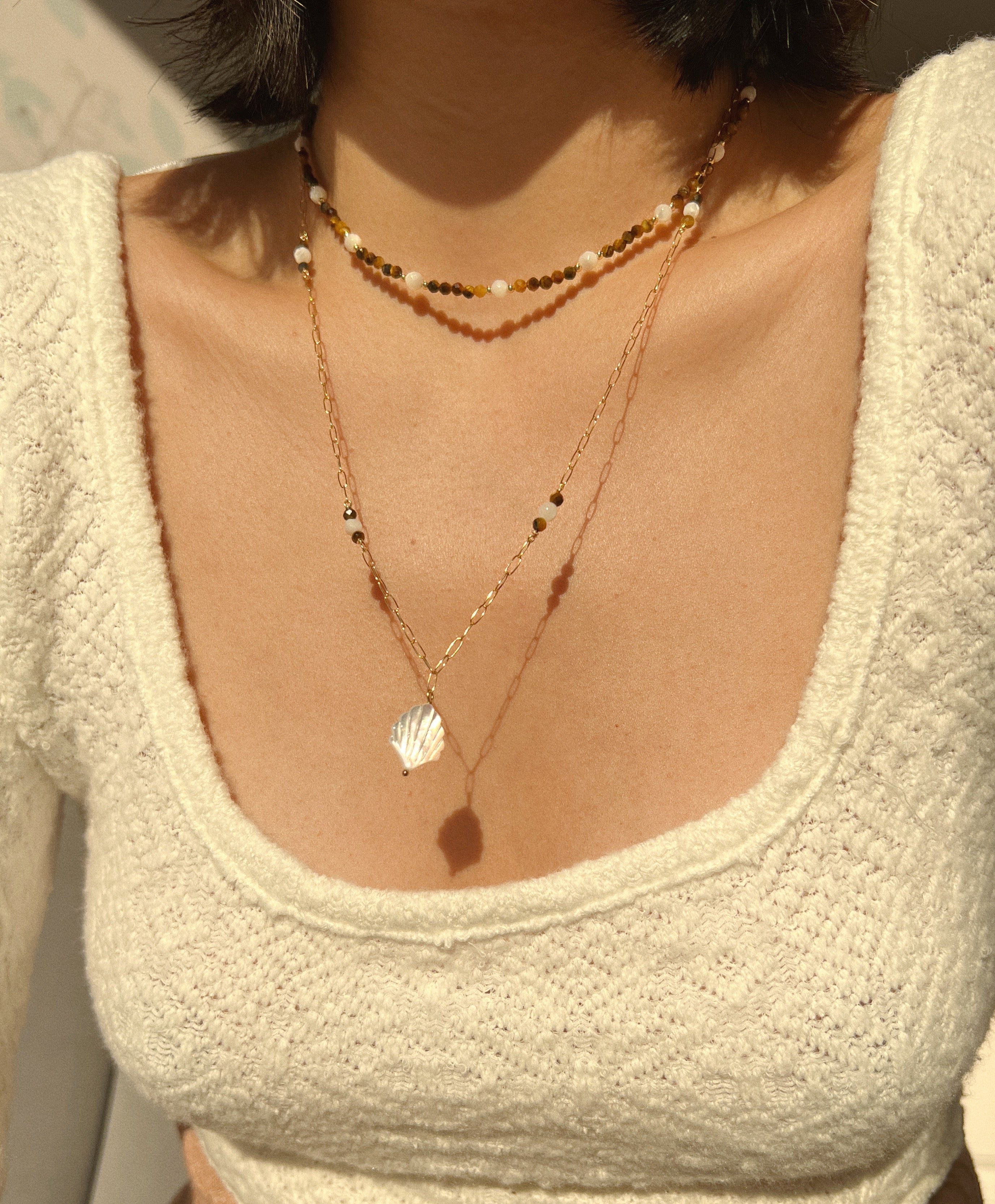 Item is in stock
Hurry! Low inventory
Item is out of stock
Item is unavailable
Free UK shipping on orders over £80
Description
Introducing the "Amber Blaze" Necklace, a harmonious fusion of Tiger's Eye and Mother of Pearl beads.
Tiger's Eye, with its warm, golden hues, signifies strength and courage, empowering you to face life's challenges with determination. Meanwhile, Mother of Pearl's iridescence represents purity and intuition, encouraging you to trust your inner wisdom and flow with life's changes.
This necklace is more than just an accessory; it's a symbol of resilience and intuition. Wear it as a reminder of your inner strength and the beauty of following your instincts in every phase of life.
Details:
- Natural tiger's eye and mother of pearl beads
- 14K gold filled clasps & beads
Length: 18" (40cm)
Gold Vermeil
Our gold plating process isn't your typical application!
We use a thick layer (2.5 microns) of 14K or 18K solid gold over sterling silver, giving you the look and feel of high-quality gold jewelry at a fraction of the cost. With proper care, your LuvLoops Gold Vermeil pieces will last for years to come.
Natural gemstones
We craft our jewellery using natural gemstones that are uniquely beautiful and one-of-a-kind, with their own distinct characteristics. Please keep in mind that some gemstones may have minor flaws, which we believe make them even more special. Natural gemstones are delicate and require care, so please handle them with love to ensure they last a lifetime.
Freshwater pearls
We take great care in creating our pearl pieces using carefully handpicked genuine freshwater pearls. It's important to note that some natural pearls may have imperfections, but we believe that's what makes them extra special and unique - just like each and every one of us! After all, imperfections are what make us one-of-a-kind.
Eco-friendly packaging
Standard packaging includes:
1 silver polish cloth
1 jewellery care card
1 pink velvet pouch
Luxe gift packaging includes:
1 jewellery box
1 silver polishing cloth
1 jewellery care card
1 pink velvet pouch
1 branded carrier bag
FAQ
Do you ship internationally?
Are your products waterproof?
We would highly recommend you to take care of your jewellery and not to wear them in water or expose them to chemicals to preserve the shine.
Do you offer Free Shipping?
Yes, we do.
We offer Free UK Shipping (Royal Mail 1st Class) for orders over £80 and Free International Shipping (Royal Mail International Tracked)  for orders over £120 
Frequently asked question
Use this to answer some common questions you hear from your customers. You could discuss product details, size fit, shipping policies, or anything you think would help merchants make an informed decision about your products. This section will appear across all products.
Shipping
Shipping
♡Ship within UK
- Royal Mail UK 1st Shipping: £2.45 (2-5 working days without tracking)
- 1st Class Signed for: £3.65 (1-2 working days)
- UK Next Day Guaranteed by 1pm: £7.85 (order before 12pm. Does not guarantee delivery on Sundays)


♡Ship to Europe:
- Royal Mail tracked & signed: £8.95
(10-20 working days)
- DHL Express: £29 (3-7 working days)

♡Ship to the USA
- Royal Mail tracked & signed: £12
(10- 20 working days)
- DHL Express:
To the USA £29 (3-7 working days)
Ship to the rest of the world:
- Royal Mail tracked & signed: £12
(10- 20 working days)
- DHL Express: £41 (3-7 working days)

* For international orders, custom charges may occur. We have no control and cannot be held responsible if these charges occur and how much the charges are.
About us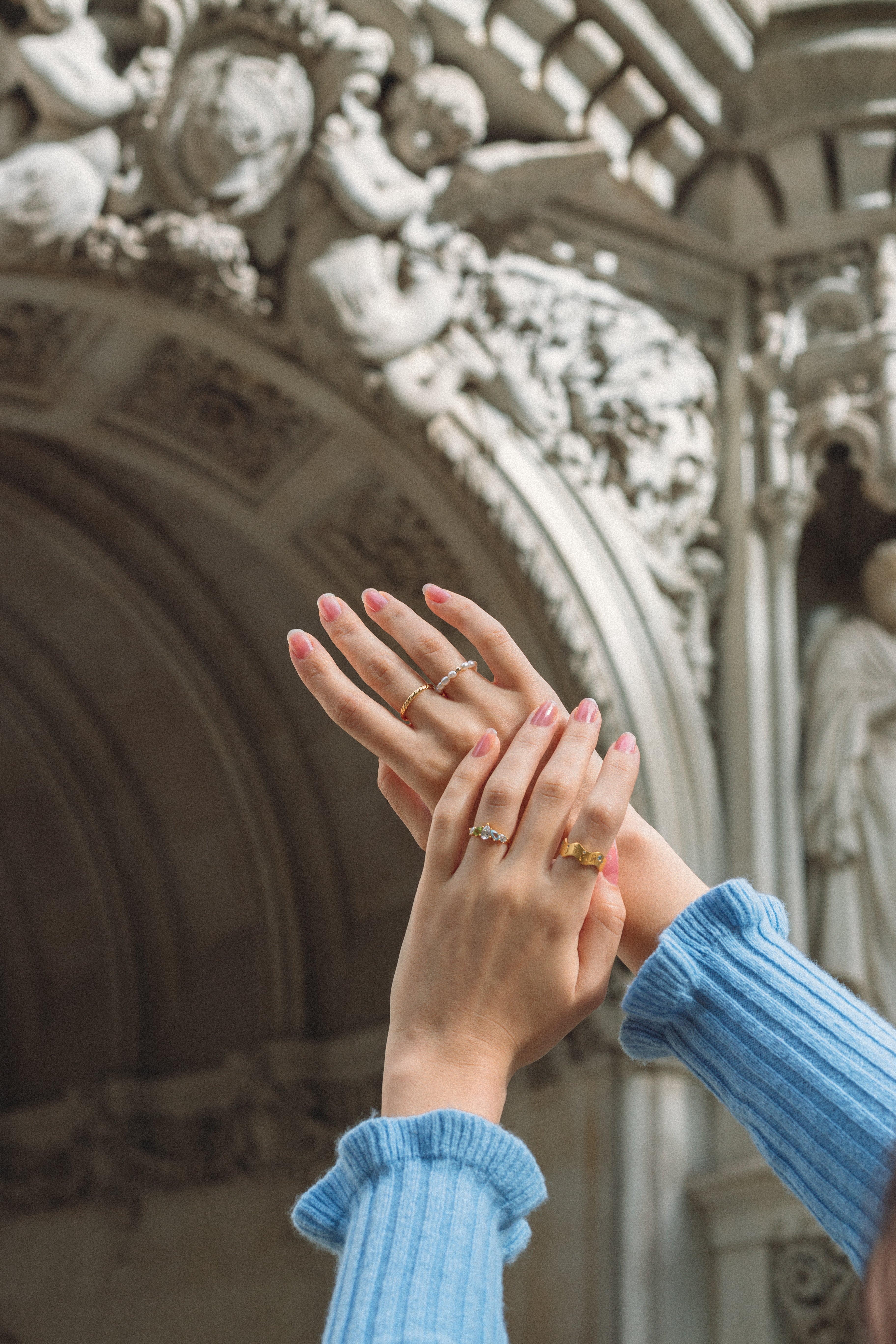 Meaningful Designs
LuvLoops- is a brand that's all about buildinglove loops- not just with our customers, but with their loved ones too.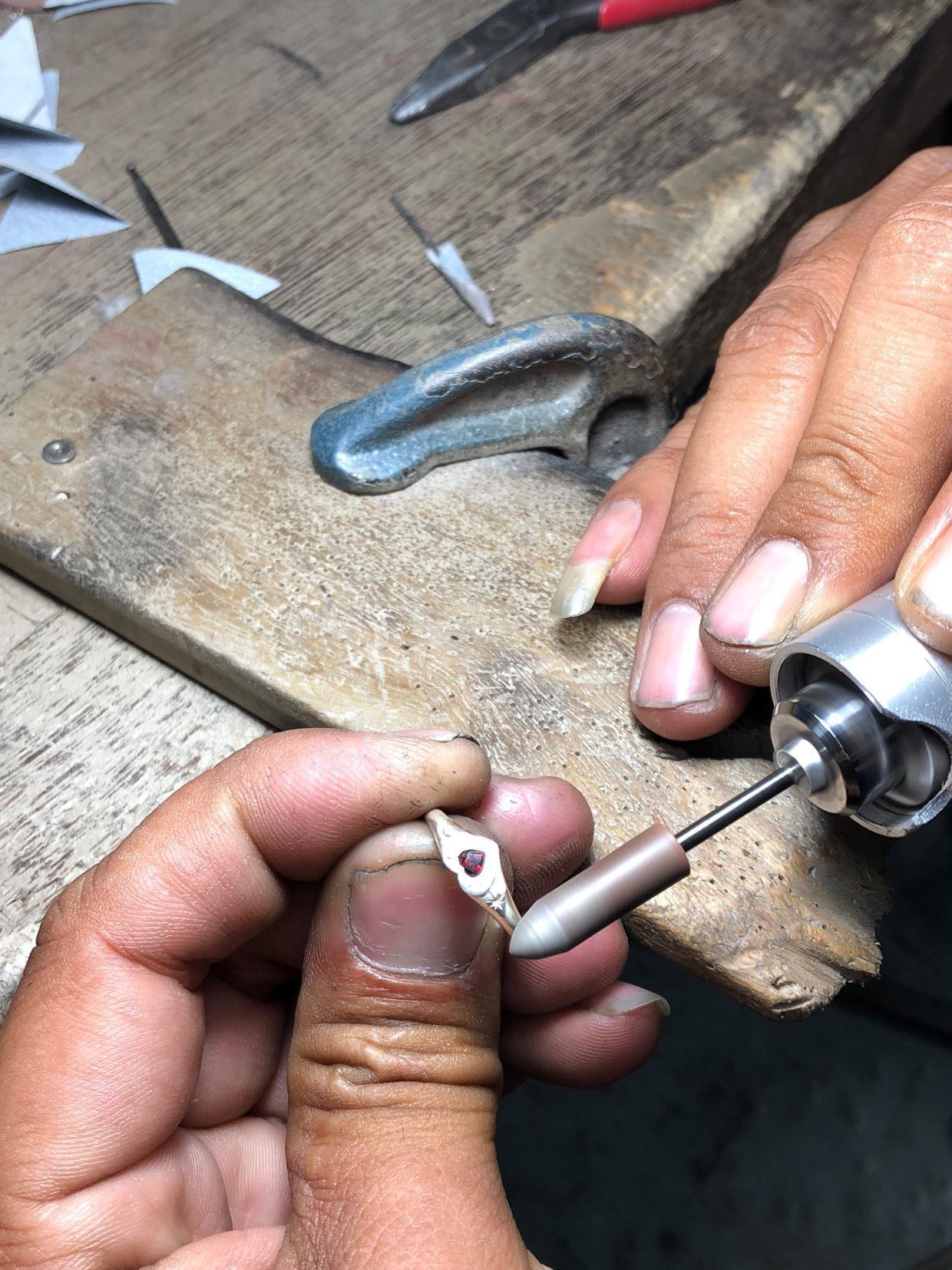 Handcrafted Pieces
All our pieces are hand crafted with almost care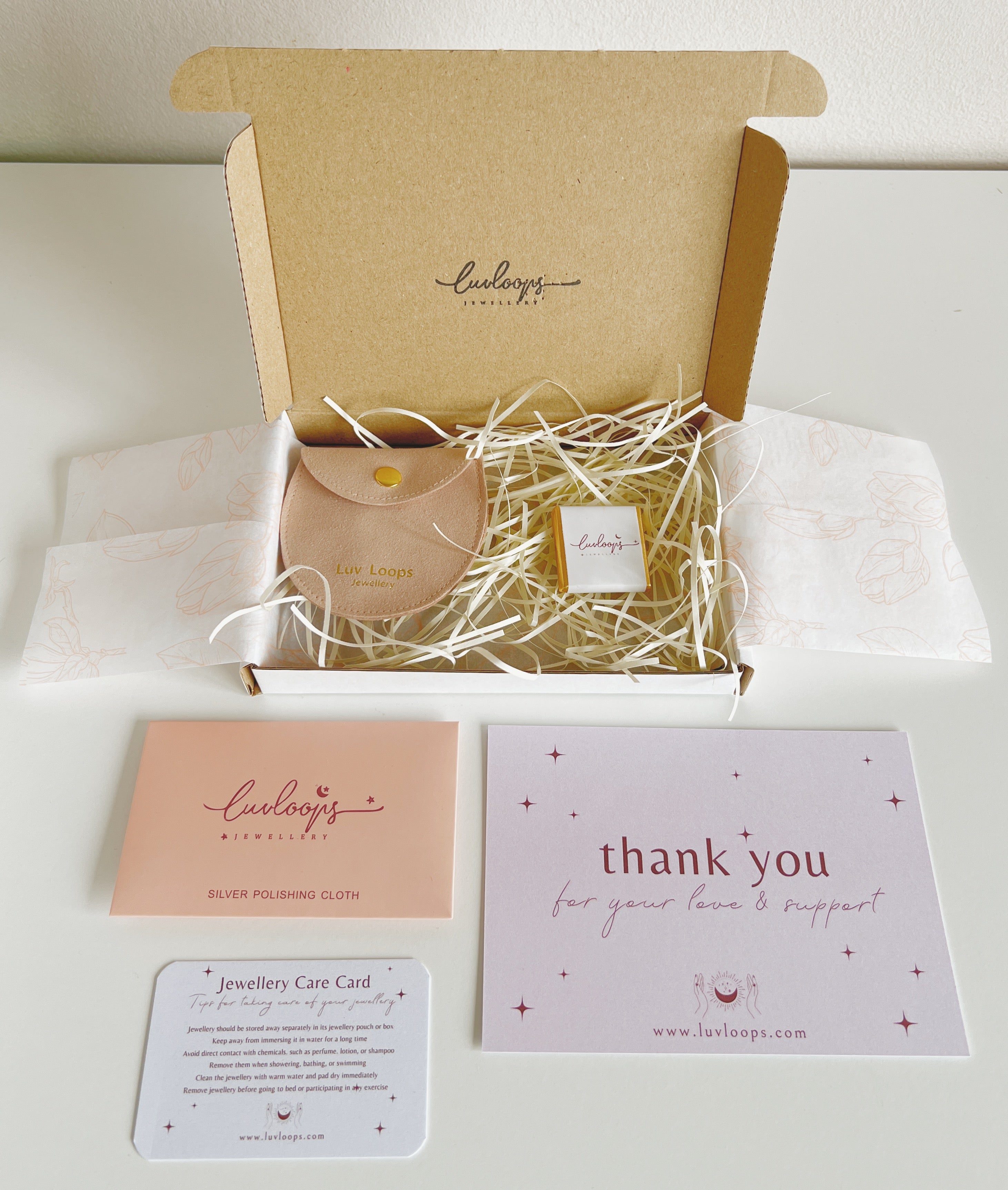 Sustainable packaging
We care about the planet just as much as we care for you